One of my favorite times of year is my annual hiking trip with my two favorite Seattle girls, Liz and Katie. Katie is a badass flyfisherwomen originally from Alaska, Katie will call you out on your BS in a heartbeat, and I love her for it. Liz and I have been friends for about 10 years now (dang Liz has it really been that long), and we have been through A LOT, to say the least.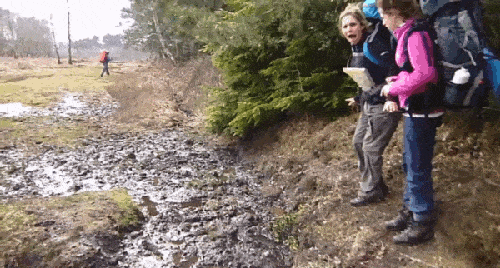 Me and Liz throughout the years
We have done this annual trip for a couple years now, and I honestly look forward to it every year. Its like a crazy girls weekend but instead of getting drunk and hitting on guys we go out in the wilderness and totally unplug, things get weird and silly pretty quickly.
Think this is a pretty adequate representation of our vibe on the hike.
This year we decided to meet about half way between Seattle and Monterey at Crater Lake and do a couple day backpacking trip. I had it all worked out, we were going to do an epic loop hike off the western rim in early June. I figured out our route and called the park ranger at Crater Lake to ask about trail conditions and get some first hand knowledge on the park.
Pro Tip: Calling the Park Ranger at my hiking destination is something I always do when I hiking out of State, trail conditions are always changing and information on the web is not always accurate.
And boy am I so glad I called, the ranger told me that they were experiencing a late snow-melt at the lake and most likely there would still be snow on the ground in the locations we were traveling. Now normally a little bit of snow would not scare me, however hard core snow camping was not the fun and care-free girls weekend trip we were looking for this time. So we changed gears and quickly.
So instead of 3 days at Crater Lake our trip morphed into an adventure on the North Umpqua Trail a little known 79-mile trail network through the Umpqua forest. Once I started looking more into this trail network I could not believe what an hidden gem this trail is. We picked a route which would take us by waterfalls, crazy rock formations, hot springs, and native american pictographs, how has this spot not exploded on social media!
Logistics:
5 days, 4 nights - but more like 3 days on trail and 2 days driving

23 miles one way (cars parked on either end)

Elevation gain: 1000 feet on Day 3
Route:
Trail Notes:
Day 1 : Rogue River Campground
I was recommended Union Creek Campground by a co-worker who had recently done a long road trip up the west coast, she said that out of all the places she stayed Union Creek was her favorite. And driving into the campground I could see why, you drive in along this small road that is lined with huge trees, I definitely was starting to feel back at home, in the PacNW. I was the first one to get to the site, and of course I had to explore, I noticed a small trail that bordered the back of our site and decided I would go on a little walk after driving for 8 hours. Little did I know that the trail would take me to the Rouge River just a few steps away from our site, so cool!
Rouge River access right off our campsite.
Liz and Katie got there a few minutes later and were just as stoked as I to find out we were right along the river. Not only was our campsite clean but there was barely anybody was there (I think because it was Oregon and it was a Thursday, however if that was Big Sur it would have been full, even on a Thursday). At first I thought we lucked out on our site, but exploring the campgrounds even more I noticed that that little trail to the river followed the river and bordered most sites.
We were all tired though after a long day of driving, so we played around setting up our hammocks, and started catching up by the fire, my favorite kind of Thursday night.
Hammock crew
Day 2: Crater Lake & Ancient Pictographs
The next morning we had a leisurely morning, we made some coffee, Liz made a ridiculous amount of oatmeal and blueberries, and we packed up camp and left on our way to Crater Lake. Crater Lake was only about 30-45 minutes from our campsite.
Once we got to Crater Lake we were soooo happy we did not decide to do our overnight there, first off it was freezing and second off there was still a ton of snow on the ground, we couldn't even drive around the lake because it was still closed due to snow, in mid-June! However, I really want to go back when it is nicer out and do a couple day overnight here.
That crystal clear water is calling my name, and I've had to add jumping into Crater Lake as an item on my bucket list.
Crater Lake, I think it is impossible to get a bad picture here.
Upwards of 500,000 people visit Crater Lake over 3-4 months in summer, and you can tell, it was packed! But it is definitely worth the visit, it just is such a natural marvel. Crater Lake was formed when Mount Mazama, erupted in volcano and ash, about 7,700 years ago. The explosion left a massive caldera filled with snow and rain. none of this water is from stream runoff, it is all from snow and rain, and that is part of the reason it is so crystal clear. It is the deepest lake in the United States at 1,943 feet, at its very deepest point, and the ninth deepest in the world.
I learned on the trip that the reason the lake has such blue water is due to a unique combination of its purity and depth. The depth absorbs many of the longer rays and reflecting the shorter rays of the white light spectrum. Red light is the longest wavelength, thus gets absorbed. Violet and blue light are the shortest wavelengths, thus get scattered and reflected back to us. In addition, the lake is essentially only fed from precipitation, no stream flow feeds the lake, therefore the lake contains just plain water with no sediments, algae, pesticides or pollution, and this water absorbs all the colors of the spectrum, except blues.
The depth and purity of the lake combine perfectly to causing the lake to have its famous Crater Lake blue, known as some of the clearest found anywhere in the world, and is absolutely mesmerizing.
But we were here to hike, so after checking out the lake we moved onto our next stop, the Umpqua Hot Springs. We planned to park one of our cars here and end the hike at this spot. The road up to the Hot Springs was not great for my little car but I made it, only to find out once we got there, that there is no overnight parking at the hot springs. I kind of doubt I would have gotten towed or anything but I didn't really want to risk being stuck out in the middle of nowhere, so we would have to backtrack a little and instead parked at Toketee Lake campground, no biggy just meant more hiking!
Once we got the car all situated we headed to the Medicine Creek Indian Pictographs, which I was super stoked for since I hadn't actually seen anything like this before. It is about a o.5 mile hike to the pictographs from an old logging Road 4775. Although it was little hard to find, we found the trail head to the pictographs, which was barely marked, but is about 1.5 miles up the road. However, the trail was nicely maintained and quite easy little stroll to the pictographs.
Honestly, I was blown away by the pictographs and it may have been one of the highlights of the trip for me. Not necessarily because they were super cool drawings or anything, really the only thing I c