One of my favorite times of year is my annual hiking trip with my two favorite Seattle girls, Liz and Katie. Katie is a badass flyfisherwomen originally from Alaska, Katie will call you out on your BS in a heartbeat, and I love her for it. Liz and I have been friends for about 10 years now (dang Liz has it really been that long), and we have been through A LOT, to say the least.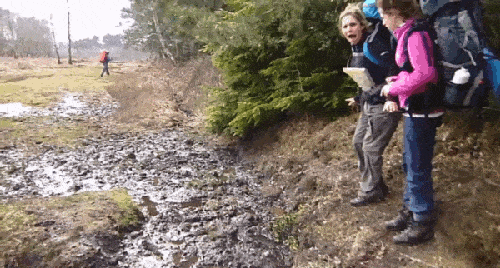 Me and Liz throughout the years
We have done this annual trip for a couple years now, and I honestly look forward to it every year. Its like a crazy girls weekend but instead of getting drunk and hitting on guys we go out in the wilderness and totally unplug, things get weird and silly pretty quickly.
Think this is a pretty adequate representation of our vibe on the hike.
This year we decided to meet about half way between Seattle and Monterey at Crater Lake and do a couple day backpacking trip. I had it all worked out, we were going to do an epic loop hike off the western rim in early June. I figured out our route and called the park ranger at Crater Lake to ask about trail conditions and get some first hand knowledge on the park.
Pro Tip: Calling the Park Ranger at my hiking destination is something I always do when I hiking out of State, trail conditions are always changing and information on the web is not always accurate.
And boy am I so glad I called, the ranger told me that they were experiencing a late snow-melt at the lake and most likely there would still be snow on the ground in the locations we were traveling. Now normally a little bit of snow would not scare me, however hard core snow camping was not the fun and care-free girls weekend trip we were looking for this time. So we changed gears and quickly.
So instead of 3 days at Crater Lake our trip morphed into an adventure on the North Umpqua Trail a little known 79-mile trail network through the Umpqua forest. Once I started looking more into this trail network I could not believe what an hidden gem this trail is. We picked a route which would take us by waterfalls, crazy rock formations, hot springs, and native american pictographs, how has this spot not exploded on social media!
Logistics:
5 days, 4 nights - but more like 3 days on trail and 2 days driving

23 miles one way (cars parked on either end)

Elevation gain: 1000 feet on Day 3
Route:
Trail Notes:
Day 1 : Rogue River Campground
I was recommended Union Creek Campground by a co-worker who had recently done a long road trip up the west coast, she said that out of all the places she stayed Union Creek was her favorite. And driving into the campground I could see why, you drive in along this small road that is lined with huge trees, I definitely was starting to feel back at home, in the PacNW. I was the first one to get to the site, and of course I had to explore, I noticed a small trail that bordered the back of our site and decided I would go on a little walk after driving for 8 hours. Little did I know that the trail would take me to the Rouge River just a few steps away from our site, so cool!
Rouge River access right off our campsite.
Liz and Katie got there a few minutes later and were just as stoked as I to find out we were right along the river. Not only was our campsite clean but there was barely anybody was there (I think because it was Oregon and it was a Thursday, however if that was Big Sur it would have been full, even on a Thursday). At first I thought we lucked out on our site, but exploring the campgrounds even more I noticed that that little trail to the river followed the river and bordered most sites.
We were all tired though after a long day of driving, so we played around setting up our hammocks, and started catching up by the fire, my favorite kind of Thursday night.
Hammock crew
Day 2: Crater Lake & Ancient Pictographs
The next morning we had a leisurely morning, we made some coffee, Liz made a ridiculous amount of oatmeal and blueberries, and we packed up camp and left on our way to Crater Lake. Crater Lake was only about 30-45 minutes from our campsite.
Once we got to Crater Lake we were soooo happy we did not decide to do our overnight there, first off it was freezing and second off there was still a ton of snow on the ground, we couldn't even drive around the lake because it was still closed due to snow, in mid-June! However, I really want to go back when it is nicer out and do a couple day overnight here.
That crystal clear water is calling my name, and I've had to add jumping into Crater Lake as an item on my bucket list.
Crater Lake, I think it is impossible to get a bad picture here.
Upwards of 500,000 people visit Crater Lake over 3-4 months in summer, and you can tell, it was packed! But it is definitely worth the visit, it just is such a natural marvel. Crater Lake was formed when Mount Mazama, erupted in volcano and ash, about 7,700 years ago. The explosion left a massive caldera filled with snow and rain. none of this water is from stream runoff, it is all from snow and rain, and that is part of the reason it is so crystal clear. It is the deepest lake in the United States at 1,943 feet, at its very deepest point, and the ninth deepest in the world.
I learned on the trip that the reason the lake has such blue water is due to a unique combination of its purity and depth. The depth absorbs many of the longer rays and reflecting the shorter rays of the white light spectrum. Red light is the longest wavelength, thus gets absorbed. Violet and blue light are the shortest wavelengths, thus get scattered and reflected back to us. In addition, the lake is essentially only fed from precipitation, no stream flow feeds the lake, therefore the lake contains just plain water with no sediments, algae, pesticides or pollution, and this water absorbs all the colors of the spectrum, except blues.
The depth and purity of the lake combine perfectly to causing the lake to have its famous Crater Lake blue, known as some of the clearest found anywhere in the world, and is absolutely mesmerizing.
But we were here to hike, so after checking out the lake we moved onto our next stop, the Umpqua Hot Springs. We planned to park one of our cars here and end the hike at this spot. The road up to the Hot Springs was not great for my little car but I made it, only to find out once we got there, that there is no overnight parking at the hot springs. I kind of doubt I would have gotten towed or anything but I didn't really want to risk being stuck out in the middle of nowhere, so we would have to backtrack a little and instead parked at Toketee Lake campground, no biggy just meant more hiking!
Once we got the car all situated we headed to the Medicine Creek Indian Pictographs, which I was super stoked for since I hadn't actually seen anything like this before. It is about a o.5 mile hike to the pictographs from an old logging Road 4775. Although it was little hard to find, we found the trail head to the pictographs, which was barely marked, but is about 1.5 miles up the road. However, the trail was nicely maintained and quite easy little stroll to the pictographs.
Honestly, I was blown away by the pictographs and it may have been one of the highlights of the trip for me. Not necessarily because they were super cool drawings or anything, really the only thing I could make out was a stick figure and a lot of the drawings have been ruined by either the elements or humans (not totally sure which one but I'm assuming more of the latter). What I was absolutely amazed by was the fact that you walk right up to the rock that the figures were drawn on, you could even touch it if you wanted. I am just so used to seeing these things in museums behind glass, it was crazy to get so up close to the drawings.
I also just get so nostalgic of the idea behind the pictographs. As you can see from the picture the rock the pictographs are on is quite large and has a large overhang which created a natural shelter for Native Americans. Its crazy to think this very spot was often used by shamans to set up camp and go on their spiritual journeys. The drawings date all the way back to the mid-18th century or earlier. I just think it is so cool to think that shamans used to chill by the campfire in this very spot! Many of the images are hard to make out and look like swirls but I guess that is due to the psychedelic effects/state the shamans used to go into on their spiritual quests.
People would travel on foot from all around the west coast to this very spot to visit these shamans and be healed for anything from sickness, to mental illness, to just plain bad luck.
I could definitely feel the energy in this spot, it is a special place. It is also protected as a cultural heritage site.
After our short hike we headed to Boulder Flat campground, which honestly I was not really stoked on. It did site right up against the North Umpqua Wild and Scenic River, which was nice, and many river rafters take off from here, which was cool to see. But, it also bordered by Hwy 138 and there was a lot of traffic noise. As the night went on the traffic noise slowed down and we were able to get some rest.
Day 3 - Get Our Hike On!
Day 3 was our big hiking day, and we were so ready to get on the trail. If you download the North Umpqua Trail brochure, we were planning on hiking the second half of the Jessie Wright Segment and all of the Deer Leap Segment, to our campsite at Toketee Lake campground, we figured this was a little under 12 miles with about a 1000 feet elevation gain at its highest point. Our original plan was to just go straight from Boulder Flat campground, as the map makes it look like the trail goes out from the campsite. But once we got there we realized the trail is on the other side of the river. So we ended up having to drive to Soda Springs trail head where there is a bridge crossing, which shaved off about 1 mile of our hike.
I was actually really glad we took off at Soda Springs trail head, and in hindsight would have probably just camped here. Soda Springs trail head is located at a super cool columnar basalt formation, according to the information at the site these formations are formed when molten lava flows and then cools in these vertical columns. They are quite beautiful, also brightly colored lichens have grown adding an element of green and brown contrast on the pillars.
Pre-hike excitement at the columnar basalt rock formations.
Waving the rock formations good bye we threw on our packs and headed out. The first half of the hike you will experience the biggest elevations because you are climbing a volcanic plug that rises 1500 feet above the river. It's essentially a steady incline through old growth forests for the first 5 miles, its not too difficult, but definitely a challenge with a pack on.
At Medicine Creek we took a small lunch break by the river, it was nice and relaxing, although this wasn't really the half way point.
Next you will pass Slide Creek, still rising in elevation, for a little under another 2 miles, where you will eventually even out. This part of the trail was my favorite your rise out of the forest cover to wide open bluffs that look out over the whole North Umpqua River, you can see here how far you climbed and take a moment to reflect on your accomplishments and how you feel.
Feeling good but still only half way thru!
The rest of the trail will have minimal inclines and will follow along the canyon rim at a high elevation opening up occasionally to amazing views of the western ridge of the Cascade Mountain Range.
But the real highlight of this trail for me were all the wild coast rhododendron (Rhododendron macrophyllum) blooming among the amazing Douglas-fir (Pseudotsuga menziesii). The stark contrast of the bright pinks, purples, and most rare whites delicate flowers growing among these huge trees really made me feel like I was in the Pacific Northwest. Interestingly enough the coast rhododendron is the Washington State Flower, which is where I am from and where Katie and Liz live, and the Douglas-fir is the Oregon State tree. Both of these species play such an important role in Pacific Northwest ecosystem. For instance, the Douglas fir will provide homes, and often food as well, for a variety of different animals. The most common and well-known ecological relationship with the Douglas-fir is the case of the northern spotted owl. These endangered birds make their homes in dead but standing trees in old-growth Douglas-fir forests, and have become a symbol for anti-logging activities. The Douglas fir also plays an important role in fire, often after a fire these large trees are the only left standing as their thick bark protects them.
Wild white rhodedendron boquets among the towering Douglas fir
Eventually we ended up at our campground at Toketee lake campground, I am kind of a backcountry snob so car camping spots are not as exciting for me, but this campground was pretty decent. The views around the lake were nice and there was plenty of trees to tie a hammock to, so for me this was good enough to call home for the night for sure.
Day 4 - Hot Springs and Double tiered waterfall
Day 4 we woke up a little sore for sure from the previous day, we contemplated just skipping the 7 mile out and back hike to the hot springs, but after some warm coffee and oatmeal we rallied. The trail to the hot springs actually had quite a bit of gains and losses in elevation, but luckily we only had day packs on this time and compared to yesterday it felt like a walk in the park. There were some really nice backcountry camping spots along this section of the trail that in hindsight I probably would have stayed at instead of Toketee campground, they don't seem very highly trafficked either so I think it would be a fairly good bet to be able to get one.
This section of trail offered some nice views along the river and well as some cute bridge crossings and little waterfalls where streams drain down into the river.
You can tell you are getting close to the hot springs when you start to hear loads of people and smell the sulfur. Right before the hot springs you will encounter a very steep hill that everybody has to climb, there is graffiti all over the place here which is definitely a shame. Originally our goal was to get here early enough to miss the crowds but we were kind of slow getting up after a big day the day before so by the time we got to the hot springs they were pretty crowded. The crowd was kind of strange too, everything from families of four to naked hippies and travelers, it was an interesting experience to say the least. There are also some areas to camp here, they seemed ok, but right off the trail so probably pretty public. There is also a pit toilet which is good because the way people treat this area I would be scared to think about what it would look like iwthout one.
The hot springs are ok, definitely not the nicest hot springs I have been to. Its actually a very beautiful spot among the Douglas firs and set atop the river, but it is not well taken care of and a little grungy. There are three natural pools of various temperature and then a few more man-made pools, you can tell which ones are man made because there are pipes carrying water from one to the other. It started raining when we got there, which was kind of cool to be in the hot springs while it was raining, I could see how coming here in the snow would be really cool (the hot springs are open year round).
Liz and I got in the pools, but honestly conditions where iffy, it was hard to tell what might be marinating in there, and I am not even a germ-a-phobe so we quickly got out and headed on.
We hiked back out to our car and headed to Hwy 138 to make our way back to civilization. But first on the way out we stopped by the beautiful Toketee Double Tiered Waterfall. There is another short 0.8 well trafficked trail to the falls. Although this hike is very crowded it is definitely worth the stop, as Toketee falls is probably one of the better known waterfalls in Oregon and is quite beautiful. Toketee falls is 118 feet plunge but is actually a double tiered waterfall, with the upper descent dropping 40 feet into pool flanked by a deep alcove, followed by another 80 foot plunge over a sheer wall of volcanic basalt. Farming the falls are the same columnar basalt formations we saw at Soda Springs trailhead. It was a nice end to the whole trek.
Toketee Falls
We always like to end our trips in town and grab a celebratory beer, so we headed to Roseburg, this is actually quite a cute little town. There seemed to be a lot of good brewery's but we were there on a Sunday night, and true to small town etiquette most of the restaurants were closed. Luckily there was a McMenamins where we were able to grab a celebratory beer and huge burger (we may have also ordered milkshakes to go). I was glad we found the McMenamins because it felt like a fitting place to end the trip as these restaurants are sort of known as a Pacific Northwest institution.
Day 5: The end
Day 5 we grabbed breakfast together, already discussing next years trip (Wyonming, Utah?). However all good things do have to come to an end so riding the high from our trip we packed into our cars and went our separate ways, Liz and Katie north and me south. This is our second annual trip and I doubt the tradition will die any time soon. Its pretty special to be able to meet up in the middle of nowhere and completely unplug. All three of us are extremely driven women that lead very active/jam packed lives with ambitious goals and lots of responsibility. So its rejuvenating to be able to chat with each other about our newest ideas as well as vent about our obstacles, with people who actually understand. We have all gone through a lot in the past years (break-ups, marriage, kids, death, moving, promotions) and though we do not live in the same area or talk a lot, we share these experiences as a group, leaning on each other when needed, and we will continue to go on our trips once a year to discuss and add to the list of amazing accomplishments we have achieved and obstacles we have overcome.
Picture at the trailhead our first year.